Free Rap Music from Outkast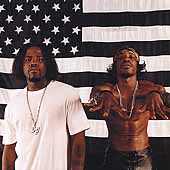 Listen to Free Rap Music from the crew with more stank than a green grouch in a can of greens. They reign from the ATL, Big Boi and Andre 3000 are with team Outkast. These down south MC's get up and out with the microphone engraved on their tongues.
Their styles are like day and night but together these playas ball with the windows up listening to funky Cadillac music. Outkast debuted in 1994 with Southernplayalisticadillacmusik. This duo has dropped bombs over the globe spitting fresh rhymes that glides over ear drums without a trace of wax. Musicjox features Outkast for keeping their style E.T.
Sit back and listen to hip hop music. Free rap music from Outkast!